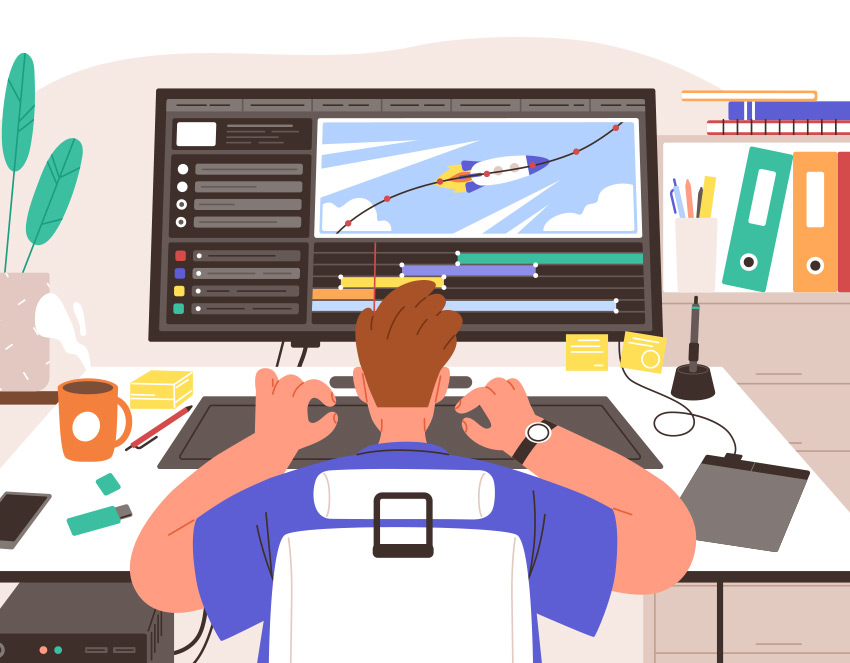 Table of Contents
Diploma in Graphic Designing – An overview
Graphic design is a creative field that involves creating visual communication for various purposes such as branding, advertising, web design, and so on. Graphic designers use various tools and techniques such as typography, images, colors, layouts, etc. to convey messages and ideas effectively.
If you are interested in graphic design and want to pursue a career in this field after 10th, you may wonder if doing a diploma in graphic designing is worth it. A diploma in graphic design after 10th is a short-term course that teaches you the basic skills and knowledge of graphic design. It can be completed in one or two years depending on the institute and curriculum. There are various graphic design short term courses after 10th grade that you can pursue, such as graphic design courses with certificates, diploma graphic design courses, or graphic design diploma online courses. 
There are many benefits of doing a diploma in graphic design. First of all, it can help you gain practical exposure and hands-on experience in graphic design projects. You can learn from industry experts and work on real-world assignments. You can also build your portfolio and showcase your work to potential employers or clients.
Secondly, it can help you enter the graphic design industry faster and easier than doing a degree course. A diploma in graphic design can qualify you for various entry-level jobs and you can also start your own freelance business or work as a consultant.
Thirdly, it can help you keep up with the latest trends and developments in the graphic design industry. The graphic design industry in India is constantly evolving and growing due to the increasing demand for visual communication across various sectors. According to a report by CII, India currently needs more than 62,000 designers for various industries out of which only 7000 are qualified designers. Another article by StartupTalky titled "Career Options in Design Industry in India" states that the design industry in India is expected to grow by 5% by 2026, according to the Bureau of Labour Statistics. It also says that the average salary of a graphic designer in India can range from Rs.3,47,800 per annum to Rs 8,50,000 per annum depending on the experience and skills.
Therefore, doing a diploma in graphic design can be a smart choice if you want to pursue your passion for graphic design and take advantage of the opportunities and potential that this industry offers. Check out the course fee range for diploma in graphic designing courses here.

Diploma in Graphic Designing – Admissions
The admission process for the diploma in graphic design after 10th is based on merit and is easy to follow. Prospective students must complete a few steps to secure their admission. 
Below are the detailed steps for the admission process:
Firstly, candidates must ensure that they meet all the

eligibility criteria

.

Students who have successfully passed their class 10 exams with the required percentage as specified by the university will be eligible for the

admission process

.

Generally, there are no entrance examinations for admission to the diploma in graphic design after 10th.

Admission is based on a merit list prepared from the class 10 scores.

The application for

admission is available both online and offline

.

Prospective candidates need to submit the relevant documents along with their application form.
How to Choose the Right College For Digital Marketing Course?
Diploma in Graphic Designing – Eligibility
The eligibility criteria for the diploma in graphic designing program is simple and requires prospective students to fulfill a few factors. To be considered for admission, students must meet all the requirements specified by the university in the eligibility criteria. Those who do not meet the requirements are not eligible to participate in the admission process. The complete eligibility criteria for the diploma in graphic design is as follows:
Candidates must have completed their 10th grade in any stream with a minimum of 50% aggregate marks.

Popular streams chosen by candidates include Physics, Chemistry, Mathematics, Biology, Commerce, Humanities, and Political Science.

There are no entrance tests or GD-PI conducted for admission to the diploma in graphic design program.
Check if you are eligible for a diploma in graphic designing course here.
Diploma in Graphic Designing – Skills required
A diploma in graphic designing is a program that merges creativity and technical skills for designing. 
To excel in this career, candidates pursuing this diploma need to possess specific abilities. These include being imaginative, observant and proficient with technology.

Additionally, candidates must have drawing skills, knowledge of graphic design software and sketching abilities.

They should also be tech-savvy and have strong observation and communication skills. 
These competencies are critical for success in a diploma in graphic design program and as a graphic designer.
What Next after 10th?PUC (Pre-university course)/11th
Diploma in Graphic Designing – Reasons to pursue
According to a

report

by StartupTalky, the Indian animation & VFX industry is growing in excess of 20%. Similarly, a

report

by McKinsey & Company indicates that the Indian tech industry will be growing at a much faster clip than the 7.5% growth rate registered over the last five years.

According to a

report

by the Confederation of Indian Industry, India has formulated and adopted a National Design Policy and constituted an India Design Council to implement all the changes. These reports suggest an increasing demand for graphic design experts in India. 

Moreover, large corporations ​like

Amazon

,

TCS

,

Vedantu

, Bazmark INQ LLC, Zaah Holdings, Twitter, McKinsey & Company, and Apple tend to hire more ​freshers at the starting package of INR 3,04,704 per year.  Apply for a student loan to pursue Diploma in  Graphic Designing degree

here

.

The Diploma in Graphic Design is a highly desirable course in this industry, offering a broad selection of job opportunities in magazines, books, advertisements, and websites. 

​There are many top colleges that offer diploma in Graphic Design courses such as Chandigarh University, Chandigarh, MSRIT, Bangalore, Pearl Academy, Delhi, etc.
By enrolling in the program, students can develop their own distinctive approach and acquire the necessary expertise to work with clients or agencies.
Read more: 5 Best Tips To Get Lowest Education Loan Interest Rate In India
Diploma in Graphic Designing – Syllabus 
Diploma in graphic designing is a one-year-long course that deals with the study of topics such as Multimedia, Animation, and Gaming. The syllabus for this course consists of theoretical and practical subjects that help students to learn and understand graphic designing as a concept and as a skill. The syllabus may vary slightly depending on the university or institute, but some common subjects are:
Semester 1: Introduction to Graphic Design, Drawing Techniques, Typography, Computer Graphics I, Communication Skills

Semester 2: Graphic Design History, Illustration Techniques, Photography, Computer Graphics II, Project Work
The syllabus also focuses more on computer skills and building an understanding of various software which is used in this designing process. The candidates after completing each set of courses are needed to present projects. This study also consists of seminars by professionals, workshops for higher up-gradation of drawing skills as well as for polishing the existing skills of the candidates. The average fee structure for a Diploma in graphic design is around Rs. 25,000 to Rs. 1.5 lakh for the entire course duration.
What next? Short term Courses after 10th
Diploma in Graphic Designing – Job Prospects
Individuals who have obtained a diploma in graphic designing are finding an expanding job market. In the past, this field was not as prevalent, but as the world becomes increasingly digital, this is changing.
As a result of this shift, organizations are advertising through various digital platforms, including online shopping, education, and training, leading to numerous job opportunities in the field of graphic designing. Some of the top recruiters that hire diploma holders in graphic design include Wipro, IKEA, Fisheye, Design Factory India etc. The average salary offered to them ranges from INR 3 lakh to INR 13 lakh per annum depending on factors like location, experience and skills
Although only a few companies outsource graphic designing, some firms are hiring third-party consultants to fulfill this role.
Diploma in Graphic Designing – Job Description
After completing a diploma in graphic designing, there are several career options available to candidates. As the course typically lasts one year, students are advised to undertake internships and freelance projects to gain practical skills and industry exposure, increasing their chances of employment. Possible career paths for students include becoming a graphic designer, web designer, or UI/UX designer.
Graphic Designer: Average Salary range 1 to 3 lacs
A graphic designer creates, designs, edits, and publishes images or graphics for various projects such as online articles, videos, or images. They assess the content requirements and produce an image or graphic that fulfills the project's needs. 
UI/UX Designer: Average Salary range 4 to 8 lacs
A UI/UX designer is responsible for designing and formatting the entire user interface and user experience of a web application or website. They decide where icons or images will be placed and determine the overall appearance of the digital product.
Animator: Average Salary range 3 to 5 lacs
An animator designs and creates videos using their sketching skills, implementing them onto images. They design a series of images and use animation software to join them together to produce a real-time video.
Web Designer: Average Salary range 1 to 5 lacs
A web designer designs and manages the complete look of a website, including deciding the color and texture of the website and choosing the icons and images to be used.
What next? Diploma Courses after 10th
Diploma in Graphic Designing – Scope 
The diploma in graphic designing offers a decent range of opportunities considering the time and money invested in the program. Candidates can choose to pursue either an academic or corporate career path based on their interests and goals. For those interested in academics, they can opt for a full-time bachelor's degree in graphic design, animation, web design, or other related fields such as B.Design, BSc Animation, B.Des Animation, among others. Candidates with a bachelor's degree are more likely to secure employment. Moreover, after completing their bachelor's degree, they can further their education by pursuing a master's degree in a related field, such as MA, MSc, MBA. A master's degree opens up better employment opportunities with a stronger pay scale.
In conclusion, a diploma in graphic design after 10th is a valuable course that teaches students the basics of design and equips them with the skills and tools to create effective and appealing visual communication. The course also opens up many career opportunities for graduates in India, such as graphic designer, web designer and creative director. These jobs offer a good salary range and a chance to work with some of the top companies in the industry. A diploma in graphic designing is therefore a great option for anyone who has a passion for art and technology and wants to pursue a rewarding career in this field. So invest in your future and take out a student loan for the PG Diploma in graphic designing here.